Specialist Courses
We currently offer the following specialist programmes: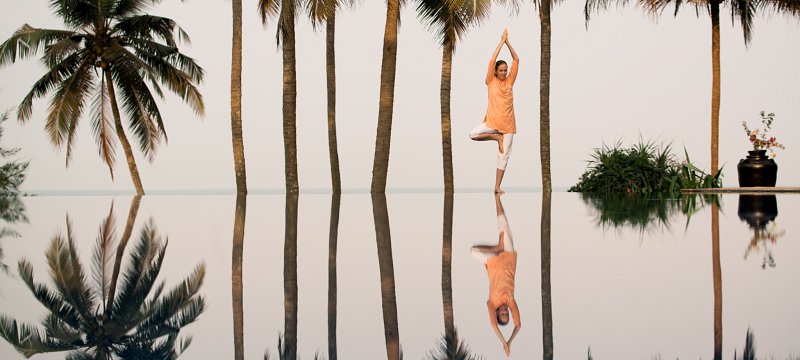 Yoga Retreat at the Hermitage, October 2018
The Inner Yoga Trust is holding a eight day retreat at the Neeleshwar Hermitage in October 2018. Led by Jenny Beeken and Pauline Sawyer, founders of the Inner Yoga Trust (IYT), one of the UK's leading teacher training bodies. Both are amongst the UK's most respected and inspiring yoga teachers having founded the IYT 25 years ago. During the last fifteen years their main teachers are Diane Long and Sophy Hoare.
Diane Long was taught by Vanda Scaravelli in Florence. Vanda was taught one to one by Yogacharya B.K.S.Iyengar. Vanda's studies led her to explore and focus on moving, waking up and strengthening the spine so that the shoulders and hips relax and the legs and feet can connect to the spine. Her work and book 'Awakening the Spine' has influenced a growing number of yoga practitioners whose yoga practice is based around developing an intuitive and mindful approach.
In essence, this yoga focuses on the transformational aspects of yoga rather than a physical work out. How we can transform our day to day posture, and therefore our minds and our lives, to bring increased awareness and aliveness in body and mind and alignment in the spine.
The IYT Neeleshwar Retreat includes daily asana, pranayama, body and breath focused meditation classes. In addition, Alistair Shearer, founder of the ashram, is teaching a daily yoga philosophy class. Alistair has translated many of the sacred texts of India, including 'The Yoga Sutras of Patanjali' which is one of the IYT's teacher training course text books.
Alistair taught for the IYT previously in England and is an inspiring and wonderfully knowledgeable teacher. He studied with the Maharishi in the 1960's and would teach Mantra based meditations for those interested during his time there.
Come and book with us for a peaceful and rejuvenating experience at Neeleshwar Hermitage!!