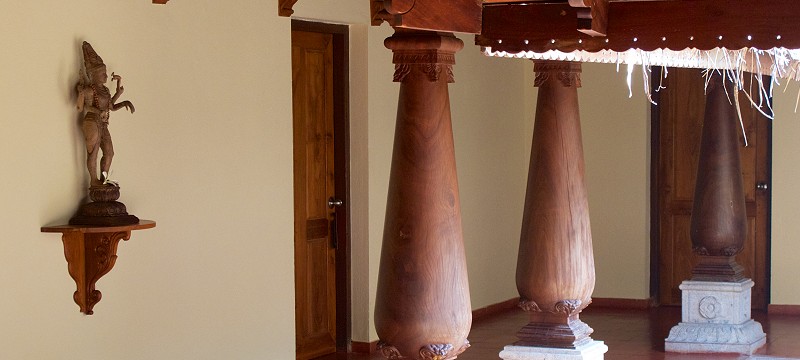 Stunning Surroundings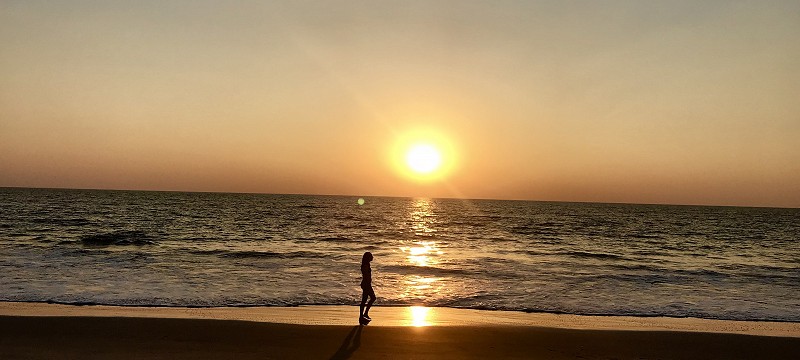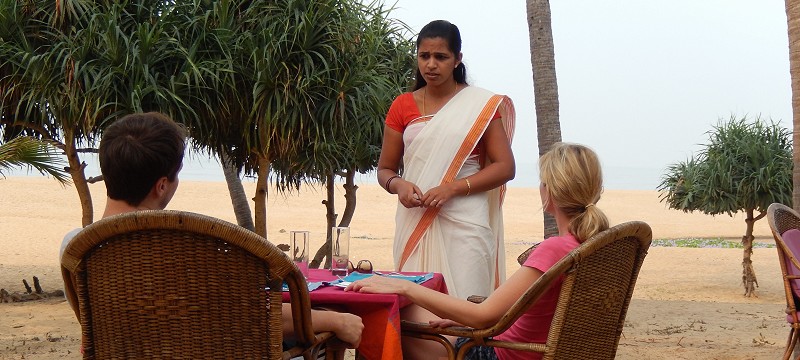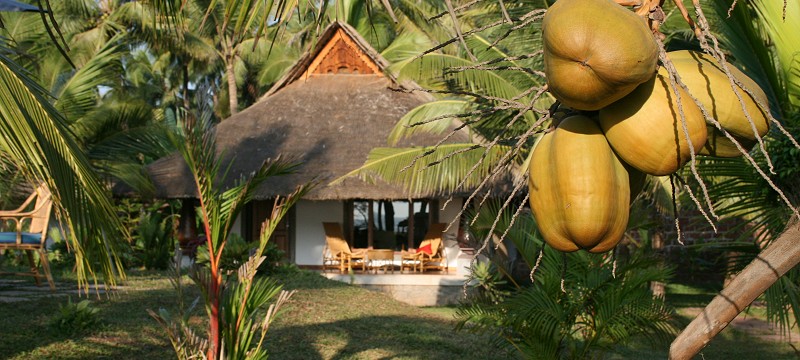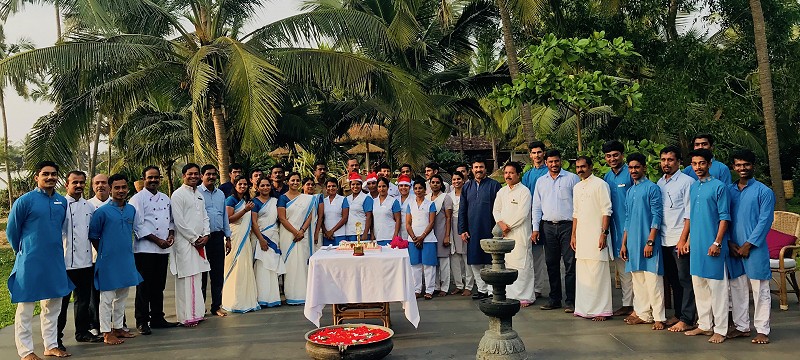 Hermitage Information
A unique retreat hotel in Northern Kerala.
Design
An oasis of calm set in twelve naturally landscaped acres, Neeleshwar Hermitage is built according to the traditional architectural principles of Kerala Vastu. The whole site oriented to the east and the rising sun, while the buildings are all placed in correct relation to each other, the four directions and the site as a whole. The traditional wood-and-thatch architecture is balanced with stylish contemporary touches and familiar modern comforts. The site overlooks a gloriously unspoiled beach of sand, stretching as far as the eye can see in both directions. The sea is clean and safe for swimming most of the year.
Service
Our sensitive and attentive staff offers Keralan hospitality with unparalleled attention to detail. From the signature coconut drink that greets your arrival to the smiling faces genuinely sorry to see you leave, everything here is carefully and subtly designed around your personal needs.
Location
Northern Kerala, traditionally known as Malabar, is a jewel awaiting discovery. Empty beaches fringed by coconut plantations, peaceful inland waterways and lush hillside spice gardens are features of an undisturbed rhythm of life set against the immensity of the ocean.

The Hermitage is approximately two hours from Mangalore international airport and between four and five hours from Calicut international airport. It is directly linked with the rest of the state by air, road and train.
Our Name
200% at Neeleshwar Hermitage
Many of our guests are intrigued as to the origin of our name. The idea of 'the hermitage' goes back to the retreats built by Renaissance princes on their country estates as places to commune with God. The term was later applied by Louis XIV the 'Sun King' of France, and other monarchs, to country residences where court ceremony and formality were abandoned in favour of the simple life. Peter the Great imported the idea to Russia, building a 'Hermitage' in his country palace and using it for private entertainments, and his successor, Catherine the Great, built her own hermitage pavilions onto the Winter Palace, filled with works of art, as places to entertain her friends and lovers.
Here in Neeleshwar Hermitage, we have adjusted this European tradition by blending in traditional Indian motifs. Neeleshwar means 'the Blue Lord' in Sanskrit and is one of the many names of Shiva, the Hindu god of Transformation and lord of Yoga. The use of temple carving and lotus motifs around the hotel, the many paintings, prints, and images of deities in the rooms, the use of blue in the main dining room, are all ways in which we allude to the presence of Shiva and his retinue, that infuses the atmosphere of our paradise garden.
So we aim to offer our guests a 200% experience: 100% material enjoyment, where they can relax and feel like royalty amidst highly civilised surroundings, and 100% spiritual inspiration, nurtured by the ancient Indian tradition of forest retreats that cultivate yogic wisdom and insight.
FACILITIES AND AMENITIES
| | |
| --- | --- |
| Our Complimentary Services | |
| Bed tea with special Hermitage flowers | Breakfast as per choice |
| Daily Newspaper | Fruits available in restaurant |
| Shampoo | Soap Bar |
| Body Moisturizer | Conditioner |
| Parking | RO purified drinking water |
| Wi-Fi | |
| | |
| --- | --- |
| Complimentary Services on request | |
| Group Yoga session for 45 minutes every morning | Consultation with our in-house ayurveda doctor |
| | |
| --- | --- |
| Services on request | |
| Doctor on call | Medical assistance |
| Shaving kit | Shower cap |
| | |
| --- | --- |
| Services provided on chargeable basis | |
| Taxi on call | Ayurvedic massage |
| Cookery class | Yoga and Meditation sessions |
| Sight Seeing to nearby places | Short cruise in the backwaters |
| | |
| --- | --- |
| Features | |
| Restaurants | 2 |
| Rooms & Suites | 18 |
| Swimming Pool | Yes |
| A/C Rooms | Yes |
| | |
| --- | --- |
| Location | |
| Nearest Airport | Kannur 76km |
| Nearest Train Station | Neeleshwar 4km |
| Bekal Fort | 15km |
| Kannur | 70km |
| Coorg District | 130km |
| Wayanad District | 150km |
| Koxhicode (Calicut Airport) | 170km |
| Kochi (Cochin) | 360km |
| Bangalore | 390km |
Reviews
A very peaceful and tranquil place with extremely helpful staff.

A gem hidden in the backwater of Kerala. A most re-visit place!!"

2022-04-16
A sensation as a bird, I think I can fly.

Amazing place, Amazing hands.. Amazing UTOPIA .

2022-10-20