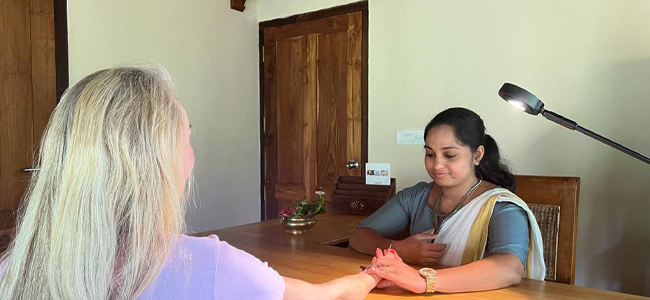 Dr. Dilna - In-house Ayurvedic Doctor at the Hermitage
The Priya clinic is very happy to have as our in-house director Dr. Dilna who has a wide experience of both Ayurvedic and Wellness spa treatments. She holds a Bachelor of Ayurveda Medicine and Surgery (B.A.M.S) with first-class honours from the Rajiv Gandhi University of Health Sciences (Karnataka) and has worked in several of Kerala's top hospitals and medical clinics including:
The Samyama Naturopathy and Ayurvedic Hospital,
The Govt. Ayurveda Hospital at Madikkai (Kasaragod) and the
Valiyaparamba Ayuryoga Clinic.
Her hospital work encompassed administration duties, including the training of interns and new members of staff.
She has also worked as a project leader for various Government projects: educating schoolchildren in awareness classes about various epidemics; lifestyle disease management and cancer treatment and awareness campaigns.
Dr. Dilna combines the skills of East and West, traditional and modern. She is proficient in Ayurvedic pulse diagnosis, and the prescription and preparation of various classical Ayurvedic formulations, as well as administering traditional therapies such as panchakarma. On the other hand, she also specialises in counselling patients about:
General Wellness,
Posture,
Nutrition,
Lifestyle and sleeping habits and
Stress management.
In this work, she employs a wide range of remedial procedures that include breathing techniques, exercise regimes, herbal medication, and dietary management.
E: reception@neeleshwarhermitage.com
M: +91 9947500600
O: +91 4672288876