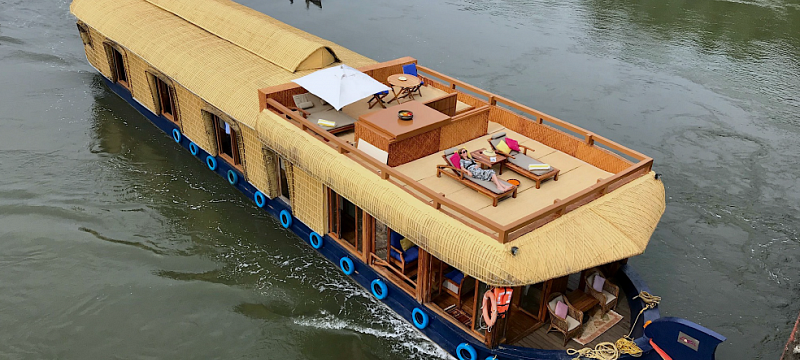 Journey Through Malabar, Northern Kerala
A Land of Spice Plantations, Tea Gardens and Coffee Estates, Tranquil Backwaters and Pristine Beaches...
This curated journey to the lush rolling hills of Wayanad, then the enchanting tranquil backwaters of northern Kerala and finaly the palm fringed Malabar Coast of the Arabian Sea has been carefully designed to offer unique and unforgettable experiences of Southern India's best kept secrets.
The journey begins with a scenic rural ramble along country roads past vibrant green rice paddies, forested hills and plantations of cardamom, ginger, betel nut,rubber, tea and coffee as we climb up into the beautiful unspoilt Wayanad District of the spectacular Western Ghats. Here we will stay at the charming colonial era Pepper Trail Heritage Plantation Retreat set among ancient towering jackfruit trees, located on a working spice and coffee plantation that has been run by the same family for three generations. From here there are walking and cycling trails with breath-taking views, where the silence is only broken by the abundant birdlife.
From here the journey continues down to the tranquil and rarelybackwaters of north Kerala, for a stay aboard the stylish and elegant 'Lotus', India's premier houseboat. Enjoy the luxurious accommodation and fabulous food onboard and relax into the slow rhythm of local life along the shore while gliding through languid palm-fringed canals and lagoons where longboats laden with coir and cashew drift past and fishermen call from paddle boats to sell their catch. Spy egrets wading in the shallows as iridescent kingfishers swoop overhead and turtles raise their heads from the watery depths. Take forays onto shore for a chance to walk through rarely visited villages, discover hidden temples and magical shrines.
The final destination is the heavenly Neeleshwar Hermitage, set in twelve acres ofparadise gardens beside the Arabian Sea. This award-winning retreat hotel offers holistic relaxation, with Ayurveda, yoga and meditation wrapped in the warm and welcoming family atmosphere that has their guests returning year after year.Stylish and comfortable accommodation nestles inside traditional buildings, while delicious food and safe swimming in either pool or sea make this the prime example of genuine Keralan hospitality. Spot dolphins diving in the sea while reclining by the infinity pool and on long beach walks and enjoy a rare chance to visit nearby shrines and witness the sacred trance-dances known as Theyyam. Unique to Malabar with spectacular costumes and vibrant atmosphere this dance is the living heart of local religious life, untouched by outside influence.
DETAILED ITINERARY
Day 1: Transfer (c. 3.5 hrs) by car from Calicut/ Kannur airport to Pepper Trail, rest of the day at leisure to relax and enjoy the hospitality and lovely pool or take an afternoon stroll.
Days 2 & 3: Explore the plantation and surrounding country side by foot and/or bicycle, and enjoy a local boat ride and bird-watching.
Day 4: Transfer to Payannur (c. 4hrs), visit the majestic Payannur Temple and observe the rituals there, before boarding the luxurious Lotus houseboat, for two timeless days cruising through the tranquil backwaters as visitors in a land where time stands still.
Day 5: Today's cruise will include visits to local shrines and villages, meeting local people and the abundant monkeys, while the energetic can take cycle-trips through the paddy fields or swim in the gentle rivers.
Day 6: Car Transfer about 10 min, to Neeleshwar Hermitage, where you can unwind, relax and stretch your legs with long walks on empty beaches, accompanied only by the flocks of gracefully wheeling seabirds.
Days 7, 8 & 9: A time of many possibilities. You can enjoy Yoga classes with an expert in the beachside yoga-hall; benefit from medicinal massage and other healing treatments in the traditional Ayurvedic clinic; visit the Theyyam ritual dances and local shrines; swim in pool or the Arabian sea; walk on kilometres of uninhabited beach; take a lesson or two in traditional Keralan cooking under the guidance of the hotel's expert chef. Or you can just enjoy relaxing and doze in a comfy hammock in the dappled shade of the beautiful poolside gardens.
Day 10: Transfer Back to Kannur/ Mangalore or Calicut airport.
Transport:
Comfortable and spacious Toyota Innova car with experienced and helpful driver.
Guides:
Local English-speaking Guides will be provided in each area for the visits/ sightseeing/walks etc.
Accommodation:
Pepper Trail: 3 nights in this six-roomed bungalow set in 200 acres of coffee plantation offering lovely views over to the Nilgiri Hills.
The Lotus Houseboat: 2 nights on board the floating palace.
Neeleshwar Hermitage: 4 nights amidst surroundings of peace and beauty.
Best Time : October to Mid May.
Please email us at marketing@abchapriretreats.in or call us at +91-9599286042 or at +91-9910025022 for Cost and Inclusions.