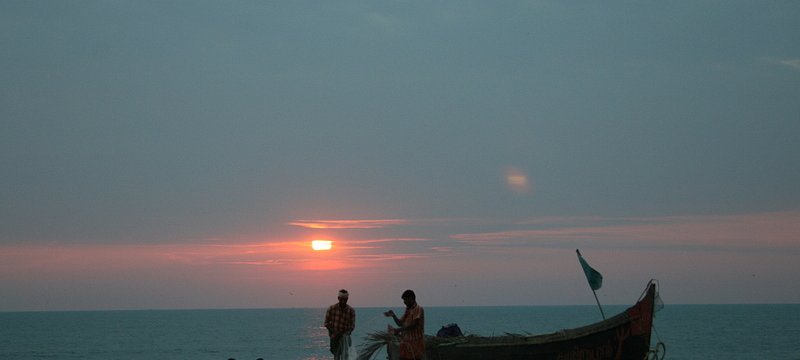 Tranquility by the Sea
The setting of the Hermitage is ideal for relaxation. Lulled by the regular rhythm of the waves and smoothed by the meditative atmosphere and physical beauty of the site, the visitor automatically begins to unwind and settle into a more natural way of life. This sense of well-being is nourished by the excellent food and the genuine friendliness of the staff. The benign atmosphere and surroundings provide the ideal basis for specific treatments such as this package.
1. Arrival and departure transfer from Mangalore/ Calicut airport or nearest railway station.
2. Accommodation in a Cottage.
3. Morning Signature Tea.
4. Breakfast as per choice.
5. 2 Ayurveda & 2 Spa Treatments Per Person.
6. Yoga Instruction for 45 minutes each morning.
7. Consulation with resident Ayurvedic doctor.
8. 2 hrs. Sunset Cruise
9. Half day sightseeing to Bakel fort, Anand Ashram and Snake Goddess temple.
10. Bottle of Sula Wine
11. All taxes
Soothing care (Sandwana): Time: 75 minutes
Experience the bliss of a synchronised massage. Two therapists work rhythmically in tandem to harmonise and balance the energy flow through the gross and subtle bodies. Then comes a massage with medicinal leaves processed with special medicated oils to relieve stiffness and pain, especially in the joints, followed by an herbal steam bath.
Blissful ease (Sharirananda) Time: 65 minutes
The treatment reserved for royalty in ancient times. Medicated oil is rhythmically applied all over the body by two therapists in a gentle synchronised massage. Then warm oil (or butter-milk herbal extract) is poured continuously over the forehead, accompanied by a gentle scalp massage. Combats arthritis, rheumatism and nervous disorders, leaving you feeling full of energy and looking younger.
Aloe Vera Facial Time: 75 minutes
Herbal foot bath Time: 30 minutes
16th April 2023 - 15th October 2023
| | | | |
| --- | --- | --- | --- |
| Cottage Type | Duration | Single | Double |
| Private Pool Cottage | 4 Nights | INR₹ 1,43,750 | INR₹ 1,64,067 |
| Sea View Cottage | 4 Nights | INR₹ 1,16,233 | INR₹ 1,36,537 |
| Garden View Cottage | 4 Nights | INR₹ 1,09,694 | INR₹ 1,36,350 |
| Pool View Cottage | 4 Nights | INR₹ 86,095 | INR₹ 1,14,623 |
| Private Pool Cottage | 6 Nights | INR₹ 1,93,406 | INR₹ 2,16,605 |
| Sea View Cottage | 6 Nights | INR₹ 1,52,124 | INR₹ 1,75,336 |
| Garden View Cottage | 6 Nights | INR₹ 1,42,303 | INR₹ 1,65,365 |
| Pool View Cottage | 6 Nights | INR₹ 1,08,109 | INR₹ 1,35,489 |
| Private Pool Cottage | 9 Nights | INR₹ 2,67,964 | INR₹ 2,95,213 |
| Sea View Cottage | 9 Nights | INR₹ 2,06,122 | INR₹ 2,33,365 |
| Garden View Cottage | 9 Nights | INR₹ 1,91,309 | INR₹ 2,18,440 |
| Pool View Cottage | 9 Nights | INR₹ 1,40,992 | INR₹ 1,75,198 |
16th October 2023 - 31st March 2024
| | | | |
| --- | --- | --- | --- |
| Cottage Type | Duration | Single | Double |
| Private Pool Cottage | 4 Nights | INR₹ 1,97,979 | INR₹ 2,24,264 |
| Sea View Cottage | 4 Nights | INR₹ 1,61,041 | INR₹ 1,95,371 |
| Garden View Cottage | 4 Nights | INR₹ 1,54,358 | INR₹ 1,88,361 |
| Pool View Cottage | 4 Nights | INR₹ 1,18,455 | INR₹ 1,55,891 |
| Private Pool Cottage | 6 Nights | INR₹ 2,72,419 | INR₹ 3,03,514 |
| Sea View Cottage | 6 Nights | INR₹ 2,29,073 | INR₹ 2,60,181 |
| Garden View Cottage | 6 Nights | INR₹ 2,18,761 | INR₹ 2,49,724 |
| Pool View Cottage | 6 Nights | INR₹ 1,63,321 | INR₹ 2,00,469 |
| Private Pool Cottage | 9 Nights | INR₹ 3,84,008 | INR₹ 4,22,663 |
| Sea View Cottage | 9 Nights | INR₹ 3,18,923 | INR₹ 3,57,722 |
| Garden View Cottage | 9 Nights | INR₹ 3,03,383 | INR₹ 3,42,038 |
| Pool View Cottage | 9 Nights | INR₹ 2,21,513 | INR₹ 2,69,799 |
Peak Season supplement from 16th Dec to 28th Feb: INR 5000 per person per night