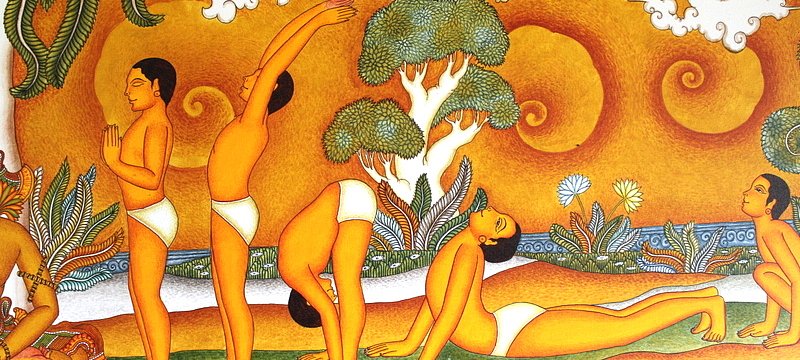 Yoga at the Hermitage
Yoga is an indispensable aid to good health, a natural and enjoyable way to bring your mind, body and spirit back into balance. Increasing numbers of people are finding that a simple yoga routine can add hugely to your enjoyment of life.
Here at The Hermitage we are fortunate to have the opportunity to practice yoga in the most beautiful and tranquil natural surroundings: surrounded by graceful coconut palms and cooled by balmy breezes from the Arabian Sea.
All our packages take advantage of this delightful setting by including a 'Tuning into Nature' session that includes a guided meditation built into a walk along our beach.
Our teacher is Dr Saranya Pullur (BNYS), who is consultant doctor for Yoga and Naturopathy for eleven years.
Dr. Pullur has a bachelor degree of Naturopathy and Yogic Sciences, SDM Naturopathy College, Ujre. MSc. Clinical Nutrition from Mysore University. She is experienced in Holistic Health streams like Yoga, Hydrotherapy, Diet and Exercise based Lifestyle modifications, Acupuncture, Acupressure, Reflexology, Manipulative therapies, Physiotherapy, Colour therapy and Ayurveda.
Her emphasis is always on ease and naturalness, so that the body is cultured and the nervous system refined of its impurities in a gradual and systematic way.
Our yoga classes take place in the Patanjali Yoga Hall overlooking the beach. The building is built of wood and stone and is light, spacious and airy. It sits at the south of the plot offering fine views of the ocean while providing a calm and tranquil atmosphere lulled by the sound of the waves.

THE PACKAGES:
We offer three packages running for 5, 7 or 12 days and are always happy to tailor these to your particular requirements.
The package includes: Loosening-up exercises; breathing exercises (pranayama); classical yoga postures (asanas) and relaxation techniques. Accommodation, airport transfers, vegetarian meals in Annapurna restaurant and one 45 min body massage.
In each case, the level will be tailored according to the experience and needs of the participants. A personal 'Home Programme' will also be given to each student when they leave.